How do we work remotely, alone…?
So here we are, in the midst of the COVID-19 lockdown! Like you all I'm sure this has taken some significant adjustment. However, many of you will have been told blithely by your 'tech' teams, before being 'pushed' towards the office exit, that "working from home had been enabled…" but what does that really mean?
Once you exclude the cat/dog/partner/children and any other extraneous noises and distractions, yes including the fridge, the realities begin to hit home! Endless conference calls and video chats are now stretching out in front of you but, and it's a big but, what if your customers don't, can't or won't use these technologies… perhaps for the simple fear of them, as after all, for many these aren't a daily 'partner in crime'?
It's one thing to silence the noise and make sure the washing machine doesn't go on spin whilst talking to your best clients, but if we are to succeed in riding out this period of isolation, they need to be on the same platforms and wavelength as you are.
Now many people will argue that homeworking produces many direct benefits including better work-life balance and happier staff, to name but a few, but if we can't effectively communicate with our clients, how does the business benefit? Put simply it won't, certainly in the longer term; you're working alone… and to no point.
So I would venture, now is THE time to find out what your clients are doing and more importantly 'using'…
With no specific end in sight of COVID-19, perhaps we need to find out how our clients want to move forward and what systems they currently have, so that we can dovetail our approaches to work with them remotely; both now and in the future!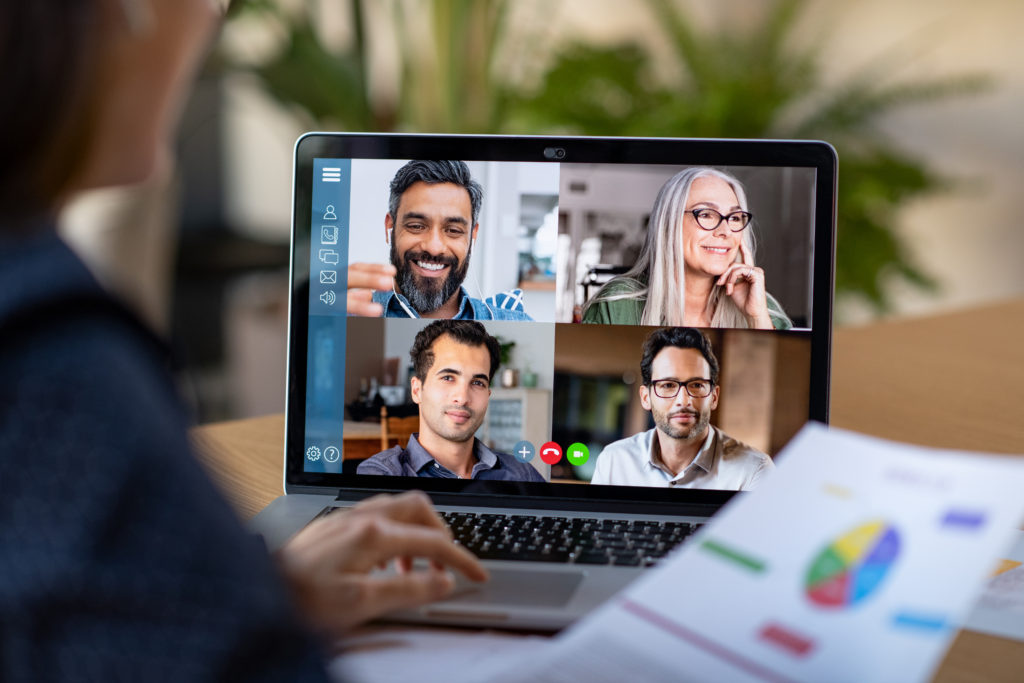 The hardware to facilitate video conferencing, even just between two people, is ubiquitous and found in almost all laptops. Dedicated system kit is very affordable and can certainly be justified for those that need it. The one thing no one seems to be clear about is 'where' you meet?
Zoom, Teams, Skype and many other collaborative systems are just a click away, but if you don't know how to use them or whether your clients do either, it's like preparing for a party that no one knows is happening!
So why not speak to your customers directly and ask what systems they prefer, or have already, and equip yourself? Register accounts with all the most popular applications and ensure you know how to use them effectively. Sureline is here to help if you need it, along with recommendations on connectivity options and the hardware available. However, making sure your location is clean and tidy in the background of your soon to be 'broadcast ready' office, is all on you!
Sadly, this Coronavirus is making its presence felt in a significant way and experts predict a longer than first expected initial outbreak, with the potential of later subsequent disruption too.
If now isn't a good time to think about what you can do to reinforce your business' ability to effectively communicate, when will be?
With best wishes to everyone during this difficult time,
Nick Hill ( Co director of Sureline)
About Sureline
Sureline Communications Ltd is an innovative, full-service IT solutions specialist, providing bespoke and reliable products and support. Sureline takes a flexible, customer centric approach to the deployment of technology solutions. We provide trusted technical advice and exceptional levels of personal service to guarantee that projects of any size meet objectives. AGILIS Mobile is the extension of this innovative product portfolio which offers tailored business mobile solutions.
More information
Website: www.sureline.uk
Twitter: https://twitter.com/surelineit
LinkedIn: https://www.linkedin.com/company/sureline-communications-ltd/