Our guide to easing back into the office post lockdown.
Returning back to the office can be challenging for employees for all sorts of reasons, readjusting to commuting, sorting out childcare and being in a space full of people outside their household "bubble". It's crucial for employers to recognise these issues and be proactive in taking the measures to ease staff back into a normal working routine. One of the most important things we can do is make our staff feel safe by implementing the correct health and safety measures to minimize the spread of Covid-19 in the workplace
Before we opened our AGILIS Mobile office we conducted a robust risk analysis to ensure our team could return safely and discussed their potential fears and anxieties before we made any decisions. Check out how we prepared our AGILIS Mobile office for the return of our staff! We hope this helps gives you some ideas of different ways you can make the space safe!
Implemented plastic sneeze screens between each desk to enable our staff to remain socially distanced and limit the spread of breathing particles form desk to desk.
Set up personal hand sanitiser stations for each staff member and an initial station where every person must sanitise their hands before entering the building.
We now have a temperature gun where every employee must take their temperature as they enter the office.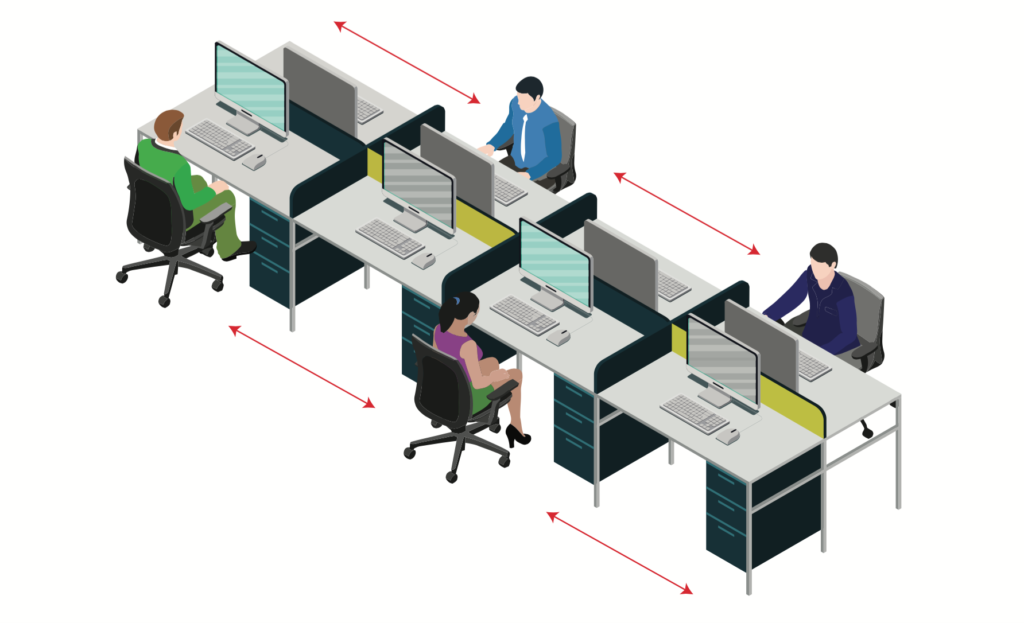 All shared fruit bowls have been removed and people must bring their own lunches and snacks.
We have many spare masks on hand in case an individual misplaces or forgets their own.
We have also removed hand towels from the bathrooms and replaced them with environmentally friendly paper towels.
Limited the amount of people allowed in the kitchen at one time.
All meetings are now socially distanced within the office.
We have encouraged all our employees to keep their bubble to a minimum in order to keep the rest of the office safe.
Asked our employees to remain at home if they feel unwell or are showing any symptoms.
The "new normal" brings about many challenges for businesses and staff alike but at AGILIS Mobile we believe in the importance of supporting our team member's so that they feel safe and comfortable being back in the office! We hope that these steps have given you some inspiration on measures you can take to safely prepare your workplace for the return of your staff!
With best wishes to everyone during this difficult time,
Nick Hill and Tina George ( Co- Director's of Sureline Communications Ltd)
About Sureline
Sureline Communications Ltd is an innovative, full-service IT solutions specialist, providing bespoke and reliable products and support. Sureline takes a flexible, customer centric approach to the deployment of technology solutions. We provide trusted technical advice and exceptional levels of personal service to guarantee that projects of any size meet objectives. AGILIS Mobile is the extension of this innovative product portfolio which offers tailored business mobile solutions.
More information
Website: www.sureline.uk
Twitter: https://twitter.com/surelineit
LinkedIn: https://www.linkedin.com/company/sureline-communications-ltd/